West Texas Musical Group Brings the Heat to Clovis Audiences
February 1, 2017
Spice up your Valentine's Day plans this year with a performance by the West Texas Tejano musical group, Monica y Grupo Mezcal, Saturday, February 11, 7:00 PM at the Clovis Civic Center (801 Schepps Blvd.).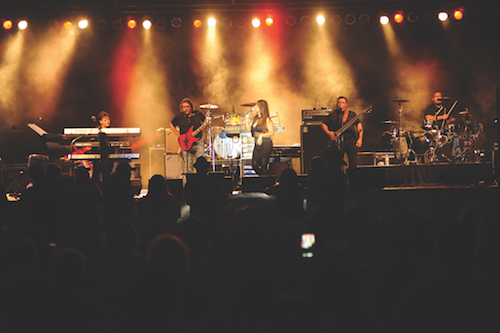 Blended from numerous cultures and migratory histories, the Mexican-American musical style of Tejano populates Central and Southern Texas, with roots in the late 19th century. Notable artists such as Selena, Mazz, and Stefani Montiel are among several other who expanded audiences of the genre across the nation in the 20th century.
Singing songs of triumph, love, and celebration, each musician additionally brings their own unique, dynamic attribute to the group's overall sound. The soul of the band comes from Monica Pacheco, the primary vocalist. Monica made her start when she was 13 years old as a vocalist in her father's band, Mezcal. Accompanying Monica is her father, Luis Pacheco, with vocals and guitar. Luis began playing the guitar at an early age and has been playing Tejano with various artists and his own band for 50 years. Due to his passion for the genre, he's also held the position of Artistic Director and Band Leader of his own bands. Laura Leal, successful restaurateur by day and spectacle of whirling sound and dance by night, shines with supreme vocals, her 7 synthesizer setup, and accordion. Gonzalo Lozano Jr. adds a flare, solidly musical and intricately precise with vocals and his thump heavy six-string bass. Frank Recio rounds out the group on drums and percussion. With his quick feet and hands, Frank creates a rhythm section which is dynamic and exacting. The group prides themselves on creating powerful music that connects individuals to each other, to themselves, and to our history.
Monica y Grupo Mezcal is a perfect mixture of "old, new, and true," an unforgettable cultural experience for audiences of all ages and backgrounds. With never-before-seen spirit and fire, this show will plant a contagious passion within the heart of Clovis.
Presented at the Clovis Civic Center as part of the Cultural Arts Series on Saturday, February 11. Tickets are $25.00 general admission and $20.00 for seniors/military/students. Make it the perfect date night and get two tickets for $35. Tickets may be purchased at the CCC Cashiers' Window, at ClovisArts.org, or the evening of the performance. Brought to you by Clovis Community College and The Citizens Bank of Clovis. For more information and tickets please call 575.769.4031 or visit www.ClovisArts.org.