Reach the Summit of Cultural and Musical Enrichment
February 14, 2017
Indulge in the sounds of the finest Canadian guitarists of African origin, African Guitar Summit, on Tuesday, February 21, 7:00 PM at Marshall Auditorium (100 Commerce Way).
The multi-talented group is known internationally for their musicianship and achievement for African music. The 2005 Juno Award winners for World Music Album of the Year unites the talents of five musicians, each unique in their own talent. Lead musicians include guitarists Donné Roberts, Madagascar Slim, Alpha Yaya Diallo, and percussionist, Kofi Ackah. Additionally, the group features Naby Camara with background harmonies of the electric bass and ballafon (the African marimba).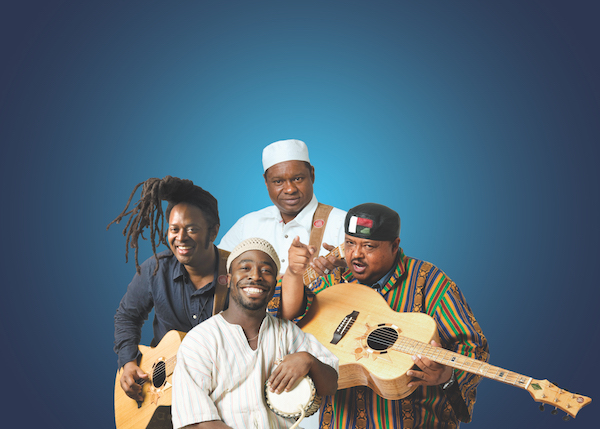 "One day I heard this incredible music on the radio. It was "Hey Joe" played by Jimi Hendrix and it really changed my life and the kind of music I wanted to play then. I literally spent days and nights trying to figure out the chords and especially that fantastic solo part. I couldn't speak a word of English and I did not understand what he was talking about, but the feel of the music somehow really touched something in me," reminisces Madagascar Slim.
African Guitar Summit presents collaborative pieces, as well as solo numbers, sharing stories and moments of inspiration through their musical journey. Language and instrumental variation is used as a reflection of each musician's different background and culture.
"What makes the songs unique is that we all add our culture," Roberts says. "When I play a song, I have a Kenyan guitar player and a Ghanian guitar player and they all put their input into my song. It's not 100% from Madagascar, which makes it unique."
In honor of Black History Month, experience live this superb and unique achievement for African music with the musical storytelling of African Guitar Summit.
This project is made possible in part by a grant from WESTAF, the Western Arts Federation, with support from the National Endowment for the Arts. Presented at Marshall Auditorium as part of the Cultural Arts Series on Tuesday, February 21. Tickets are $15.00 general admission and $10.00 for seniors/military/students. Tickets may be purchased at the CCC Cashiers' Window, at ClovisArts.org, or the evening of the performance. Brought to you by Clovis Community College and The Citizens Bank of Clovis. For more information and tickets please call 575.769.4031 or visit www.ClovisArts.org.