Indie Orchestra Educates Clovis Students on Music and Classical Instruments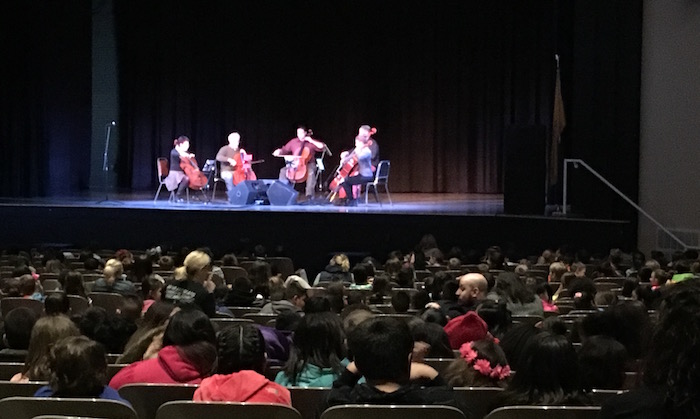 Portland Cello Project playing "Let It Go" from the Disney movie Frozen at the Outreach
On Thursday, January 25, the seats of Marshall Auditorium were filled with the sounds of excitement and laughter of 4th grade students from all over Clovis, New Mexico who patiently awaited a beautiful performance from the indie orchestra, the Portland Cello Project.
Portland Cello Project has built their reputation on mixing genres and shifting musical perceptions since their creation in 2007. The group of cellist have performed in various locations ranging from symphony halls to the halftime show at the Portland Trailblazers game. Their repertoire covers an array of genres containing over 1,000 music pieces ranging from Taylor Swift to Radiohead.
During this musical outreach, the students were guided through an arrangement of beautiful musical pieces. From discussing tempo and rhythm to how the cello bow is made with horse hair, Diane Chaplin, one of the lead cellists, guided and educated the children on every part of their performance. The eyes of almost all of the youth lit up as the cello group began to play a song that was very familiar to them - "Let It Go" from the Disney movie Frozen.
"I thought it was great! My favorite was when they used the cello as guitars." ~ Parkview Elementary student
"I liked seeing their instruments. I 've never seen 5 cellos before together on a stage." ~ Arts Academy of Bella Vista student
"This outreach introduced the students to a different type of music. The live performance aspect of the activity increased their engagement significantly." ~ Sandia Elementary teacher
"New musical experiences are always a plus in my eyes, for teachers and students alike." ~ James Bickley Elementary teacher
Following their outreach performance, Diane discussed the importance of opportunities like this outreach, "We've noticed while touring in New Mexico, a lot of schools don't have music programs, let alone strings programs, so many of these kids have not had exposure to string instruments. Opportunities like these help with their exposure to the world and culture with music they might have not heard before and see instruments they might have not seen before."
This educational opportunity was made possible in part by a grant from WESTAF, the Western Arts Federation, with support from the National Endowment for the Arts. This was a striking musical experience these students won't soon forget.