Clovis Community College Phi Theta Kappa Induction Recognizes Academic Distinction
April 19, 2017
On the evening of Friday, April 15, 2017, family and friends gathered to watch CCC's Phi Theta Kappa Honor Society (PTK) chapter induct fifteen new members and secure their oath of membership to the organization. The ceremony began with a welcome by PTK officer, Hailey Gibson, director of marketing and public relations, followed by a history of the organization, led by active member Miguel Palau Galarza. PTK president, Stuart Dietz, then introduced new members while chapter co-advisor and CCC history faculty, Aaron Anderson, presented certificates with PTK vice president, Tiffany Bostock. Each new member was handed a white rose signifying installation of their membership. Ending the ceremony with closing remarks was chapter co-advisor and CCC Allied Health faculty testing secretary, Misty Padilla.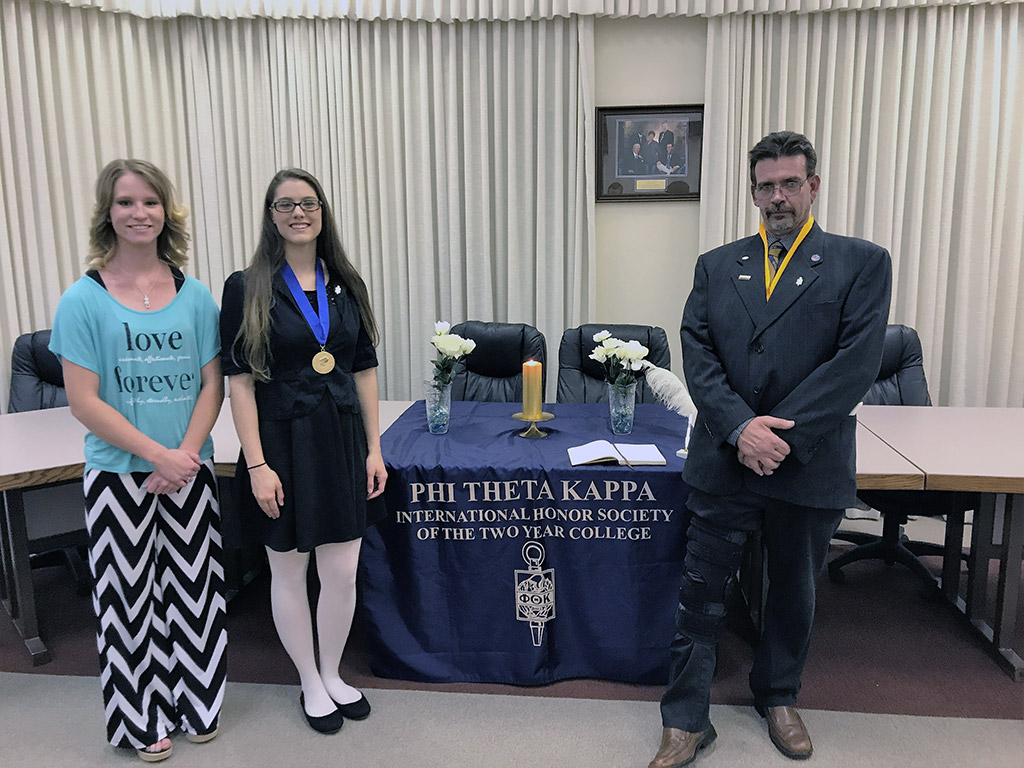 PTK Officers - Hailey Gibson, Director of Marketing and PR; Tiffany Bostock, Vice President; Stuart Dietz, President.
Student's eligible for PTK membership at CCC must have a grade point average of at least 3.5. In addition, students eager to join the society must have completed a minimum of twelve semester hours at CCC and must be enrolled for a minimum of twelve academic semester hours during the current semester.
Phi Theta Kappa was established in 1918 by Missouri two-year college presidents. PTK serves to recognize and encourage the academic achievement of two-year college students and provide opportunities for individual growth and development through honors, leadership, and service programming. Alpha Tau Nu, the local chapter at Clovis Community College was chartered on May 2, 1991. Alpha Tau Nu is known for its tradition of excellence and is one of the most successful chapters in the state of New Mexico.
At the beginning of April, Phi Theta Kappa held its annual convention in Nashville, Tennessee. During the course of the convention, CCC's Alpha Tau Nu chapter received twelve awards. Those awards were: Regional Conference Appreciation, Pinnacle Award, Five Star Level Award, Global Perspective Honors in Action Distinguished Theme, Distinguished Honors in Action Project, Misty Padilla - Certificate of Appreciation, C-4 Commit to Complete Initiation, Spirit Award, Shining Star Award, Distinguished Chapter Award, Distinguished College Project Award, and the Horizon Award.
PTK president Stuart Dietz commented, "It has been an extraordinary experience so far with being able to lead a highly successful chapter as well as be involved in a leadership role for the organization over Central New Mexico. It has expanded my horizon with being able to work with students from all around the world with have taking part in the annual convention, also known as PTK Catalyst 2017. I can honestly say this has assisted me in broadening my experience and just completes my theory of 'start with a vision to end with success'."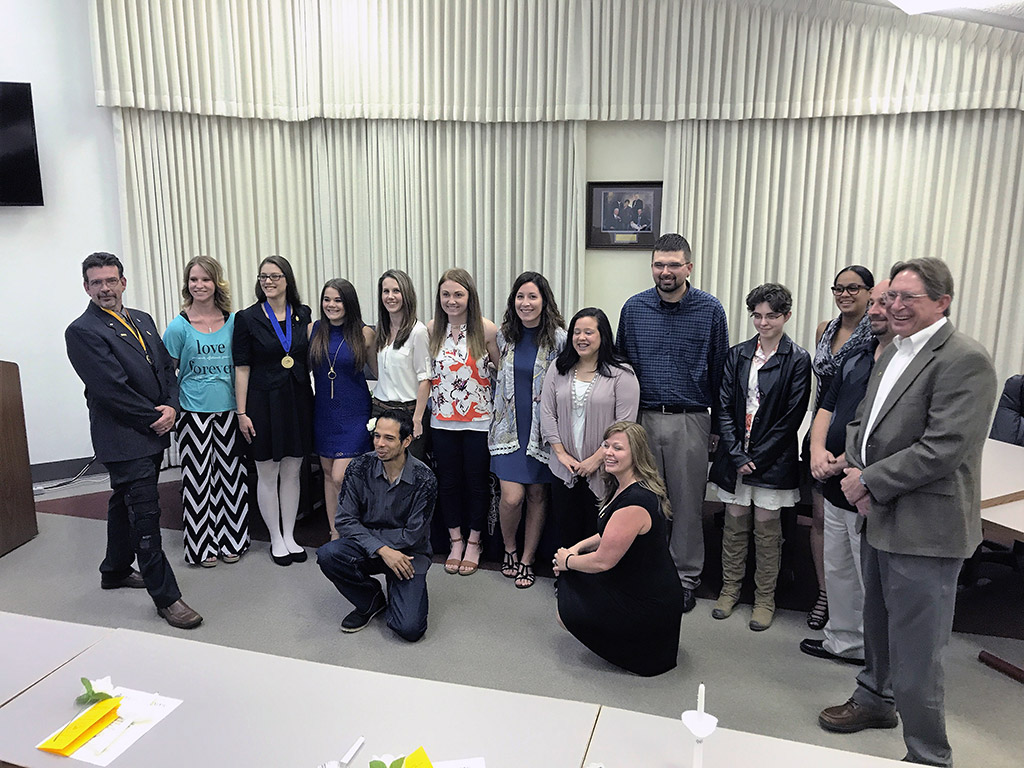 Back Row: Stuart Dietz, Hailey Gibson, Tiffany Bostock, Kennedy Clower, Elizabeth Frenzel, Taylor Foster, Sarah Neal, Ariel Lopez, Stephen Spears, Julia Beaulieu, Rosetta Cason, Jacob Berckefeldt, and Aaron Anderson. Front Row: Miguel Palau Galarza and Misty Padilla