High School Students Master the Arts
May 11, 2017
Exceptionally talented students of Clovis High School and the Freshman Academy shine through the 2017 Young Masters Juried Student Art Show. The opening reception and awards took place on Tuesday, May 9, at the Eula Mae Edwards Museum and Gallery, located at Clovis Community College. The show is presented by the Clovis Education Foundation, Clovis Municipal Schools, and Clovis Community College.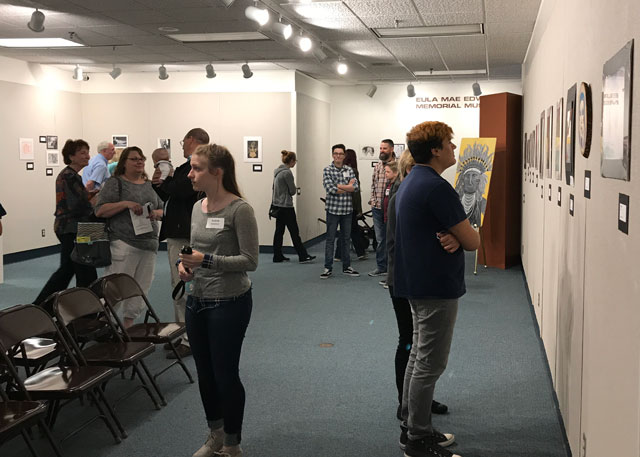 Friends and family view the entries that were selected for the 2017 Young Masters juried student art show, a collaboration with Clovis Municipal Schools, the CMS Foundation, and Clovis Community College.
The annual Young Masters Art Show showcases the talents of aspiring artists in grades 9-12. Participating students submit their choice of original artwork to their school's art teacher in late April. The work may range from sculpture to photography to drawing and then is narrowed down by the Young Masters committee. The art show is highly competitive – of approximately 98 submissions, only 43 entries were selected to be exhibited in this year's show.
"By exposing students to different things in the art world, they can discover their creative side and really see what they are capable of. This show is a great starting point for all the growing and newly discovered talent in our kids.I think this year may have been the most diverse show I've been involved in. There was a wide variety of colorful work and broad range of styles represented. I hope the students can have an appreciation for it as well," affirms Freshman Academy art teacher, J.T. Berry.
During the reception, awards were also presented to the following student's artworks that were judged for excellency among the entire exhibit:
Best of Show - Morgan Jeffcoat, Clovis H.S., "Untitled" – Mixed Media
First Place - Harrison Rikel, Clovis H.S., "Bullet Point Buffalo" - Ink
Second Place - Alexis Romero, Clovis H.S., "Wondering Robot" - Scratchboard
Third Place - Cassidy Schwartz, Clovis H.S., "Chief" – Acrylic
Honorable Mentions:
Marissa Baca, Clovis H.S., Tree with Flowers – Photography
Kira Boyles, Clovis H.S., I Am Damaged, Digital
Madison Dial, Clovis H.S., A Travelers' Yearn – Watercolor
Christian Fontunilla, Clovis H.S., Still Life - Charcoal & Graphite
Markus Hidinger, Clovis H.S., Mushu – Metal Sculpture
Maggie Land, Clovis H.S., Sunset Abstraction, No. 1
Hayden Peel, Freshman Academy, "Andromeda" – Spray Paint
Fan Favorite: Marissa Baca, Clovis H.S., Tree with Flowers – Photography
When announced as "Best of Show" winner, Morgan Jeffcoat commented, "Ever since I entered my first piece into this art show two years ago, I have been inspired every year to put something that I have created into the show. It has inspired me to try new medias and work harder on my art. I thank everyone involved and appreciate the award I have been given."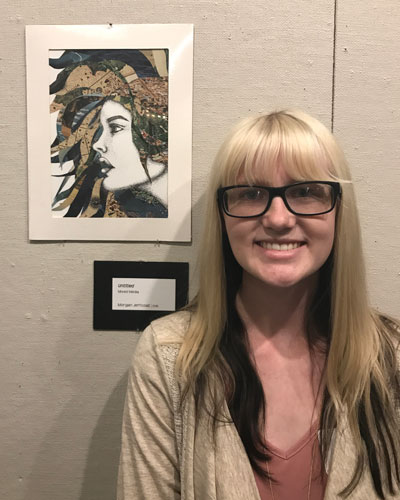 Morgan Jeffcoat, a senior at Clovis High School, received the Best of Show award for her mixed media piece "Untitled."
Clovis Education Foundation Executive Director Jan Cox's aunt was the first president of the Abilene Education Foundation, and it was from her that Cox developed zeal in bringing the Young Masters program to Clovis. "I'm so proud of the Young Masters program, because it encourages and recognizes the artistic talents of our high school artists. It provides one of the few venues that emphasizes the importance of the visual arts at the high school level. Our community is a richer place to live because of programs like the Young Masters," says Cox.
On Wednesday, May 3, Young Masters judge and photographer, Cristy Cross, instructed the exhibit's participants in the spring workshop on making pinhole cameras. A pinhole camera is a simple camera without a lens but with a tiny pinhole in one side and film in the other. Each student assembled their own pinhole camera out of simple materials such as a cardboard box for the body, a piece of a soda can for the lens, tape, and spray paint. The students exposed their film and learned how to develop negatives in the darkroom. "My favorite part of the workshop was seeing everyone's excitement as they viewed their images for the first time," commented Cross.
As judge of the exhibit, Cross had the hard part of selecting the artwork that would be selected for awards. "There are so many talented students at CHS and CHSFA, and it was such an honor to judge the art exhibit. I was amazed by the artwork they created as well as inspired. I'm thinking they could teach me a thing or two!"
The Eula Mae Edwards Museum is open to the public during regular campus hours, 8 AM – 5 PM, Monday thru Thursday, and 8 AM – 4:30 PM on Friday. "Young Masters" will be on display until June 16.