High School Students Master the Arts
Clovis, New Mexico – Exceptionally talented students of Clovis High School and the Freshman Academy shine through the 2018 Young Masters Juried Student Art Show. The opening reception and awards took place on Tuesday, May 8, at the Eula Mae Edwards Museum and Gallery, located at Clovis Community College. The show is presented by the Clovis Education Foundation, Clovis Municipal Schools, and Clovis Community College.

The annual Young Masters Art Show showcases the talents of aspiring artists in grades 9-12. Participating students submit their choice of original artwork to their school's art teacher in late April. The work may range from drawing to pottery to wood engraving and then is narrowed down by the Young Masters committee. The art show is highly competitive – of approximately 85 submissions, only 35 entries were selected to be exhibited in this year's show.

During the reception, awards were also presented to the following student's artworks that were judged for excellency among the entire exhibit:
BEST OF SHOW -
Ethan Schnell, CHS, "Metal Highlander"- Metal/Scrap Art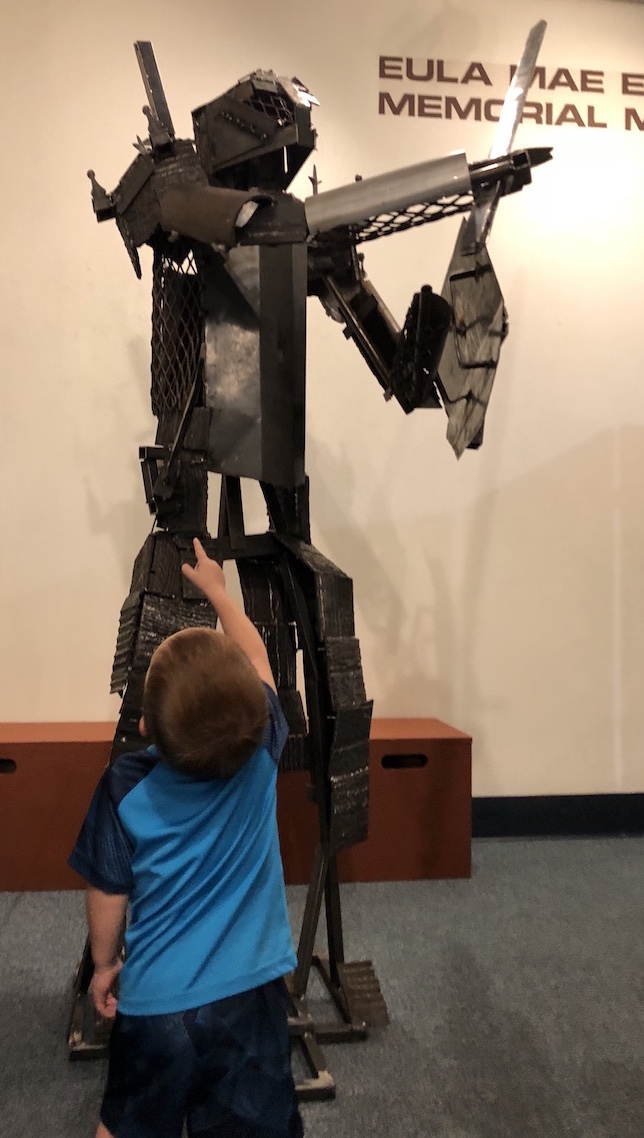 1ST PLACE -
Leiahna Uitgard, CHS, "Reflection" - Pencil
2ND PLACE -
Shelby Lupo, CHS, "Bear in the Stars" - Ink
3RD PLACE -
William Garcia IV, CHS, "Burque Baby" - Acrylic on Canvas
HONORABLE MENTIONS
Abymeal Bernal, CHS, "Eva" - Clay
Aubrie Gershon, CHS, "Life" - Wood Engraving
Aaron Reid, CHS, "Aqueus Solution" - Watercolor Solution
Jaqueline Rodarte, CHS, "Royalty" - Scratch Board
Aubrey Smith, CHS, "In Dry Places" - Acrylic on Canvas
Nic Zubiate, CHS, "Untitled" - Ceramic Pot
FAN FAVORITE:
Adreeanna Garcia, CHS, "Purity" - Photograph
Cassidy Schwartz, "Untitled" - Acrylic

Clovis Education Foundation Executive Director Jan Cox's aunt was the first president of the Abilene Education Foundation, and it was from her that Cox developed zeal in bringing the Young Masters program to Clovis. " Every year, the Young Masters program grows and the quality of work is extraordinary. It's always a wonderful evening to celebrate the creativity of our young artists!," says Cox.

On Tuesday, May 8, Young Masters judge and artist, Heather Hancock, instructed 20 of the exhibit's participants in the spring workshop on crafting a collage out of clippings from magazines, torn paper, tissue paper, and paint. "I asked the students to create a collage, with a subject of their choice, that incorporated analogous colors (colors that are next to each other on the color wheel), examples of complimentary colors (red & green, blue & orange, purple & yellow; colors that are on opposite sides of the color wheel), warm colors and cool colors."

Heather discussed the difficulty she faced judging the competition this year. "Judging the art show was nerve racking; there were so many great pieces of art that is so difficult to narrow it down to the top place winners. If I could have, I would have given out several more honorable mentions! It was such a honor to be the one to analyze the artwork, look at the formal qualities of the artwork, as well observe the craftsmanship, but also to be fully aware of how much time, effort and heart goes into making the artwork."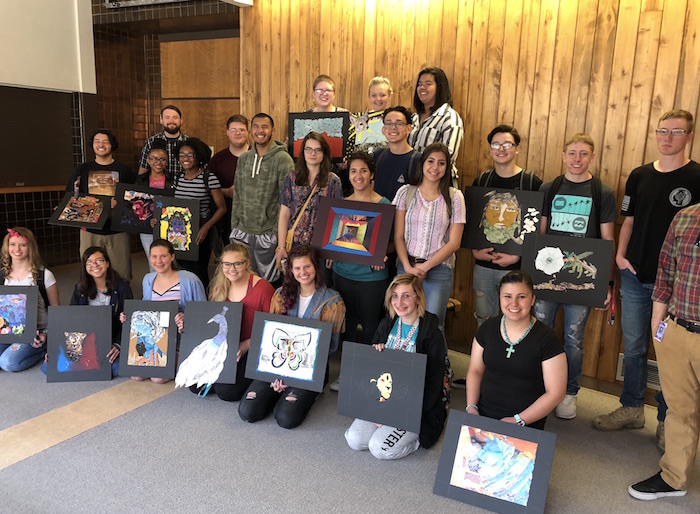 The Eula Mae Edwards Museum is open to the public during regular campus hours, 8 AM – 5 PM, Monday thru Thursday, and 8 AM – 4:30 PM on Friday. "Young Masters" will be on display until June 19.