High School Students Master the Arts
May 13, 2016
Exceptionally talented students of Clovis High School and the CHS Freshman Academy shine through the 2016 Young Masters Juried Student Art Show. The opening reception and awards took place on Tuesday, May 10, at the Eula Mae Edwards Museum and Gallery, located at Clovis Community College. The show is presented by the Clovis Education Foundation, Clovis Municipal Schools, and Clovis Community College.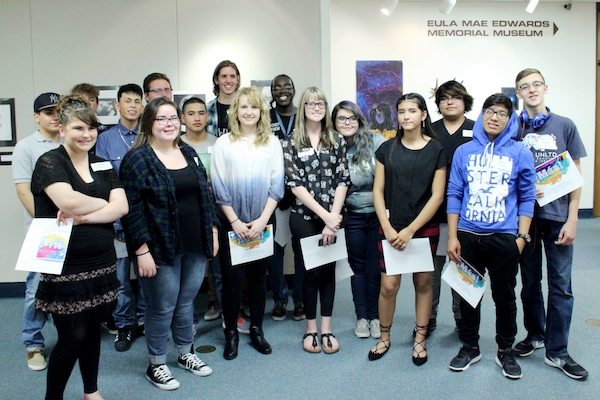 The Young Masters art show is highly competitive – of approximately 125 submissions, only 56 entries were selected to be exhibited in this year's show. The process all starts in the young students' art classroom. "From the very beginning of class, I tell the students we're going to produce artwork that is art show worthy. I want you to prepare a portfolio. I want you to be a professional artist. From the very beginning, we work towards professionalism and so the preparation comes from the kids themselves – in their efforts and what they're willing to push themselves with," states Clovis High School art teacher, Saprina Griffin, on the students' process of preparing for the show. The intention of the Young Masters program is to reinvent a strong presence of art in the Clovis and Portales community, and acquaint it with individuals of an earnest age. "By exposing students to different things in the art world, they can discover their creative side and really see what they are capable of. This show is a great starting point for all the growing, and newly discovered talent in our kids. I enjoy seeing all of the work put into the show and hope the students can have an appreciation for it as well," affirms Freshman Academy art teacher, J.T. Berry.
The annual Young Masters Juried Student Art Show showcases the talents of aspiring artists in grades 9-12. Participating students submit their choice of original artwork to their school's art teacher in late April. The work may range from sculpture to photography to drawing, and then is narrowed down to showcase by the Young Masters committee. During the reception, awards are presented to "Best of Show," 1st, 2nd, and 3rd place, six honorable mentions, and a "Fan Favorite," voted by reception attendees. The following were winners for each category: Best of Show, Harrison Rikel; 1st Place, Emilio Vrigollen; 2nd Place, Aubrie Gershon; 3rd Place, Leiahna Utigard; Honorable Mentions, Gjia Ayson, Christian Crider, Morgan Jeffcoat, Lance Lowder, Jesus Vallejo, Jasmine Williams; and Fan Favorite was awarded to Morgan Jeffcoat.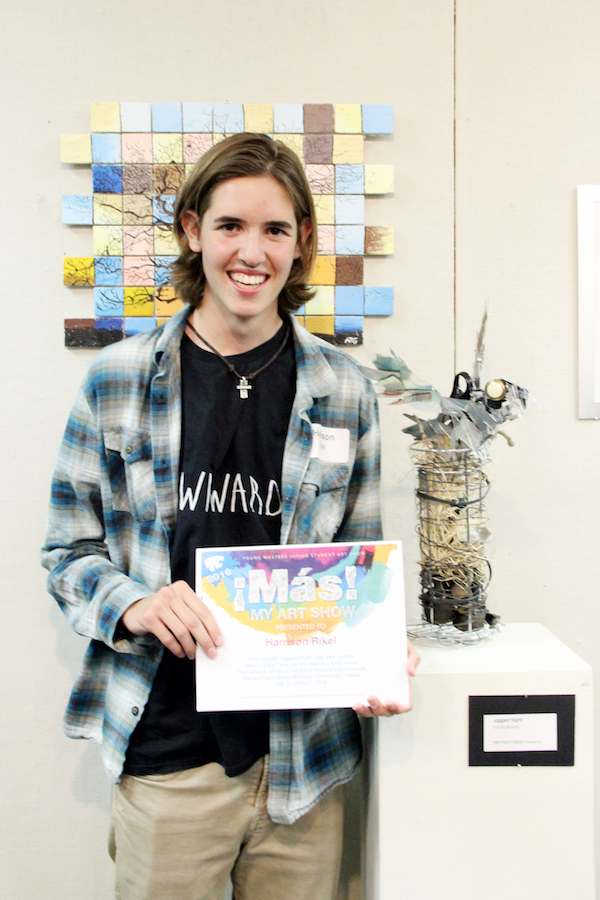 Artist and "Best of Show" winner, Harrison Rikel, describes his winning piece as something of a happy accident, which he created at a CCC workshop. "Receiving this award means that my name is out there now, so that's really cool," describes Rikel on being awarded "Best of Show." Rikel's piece resembled an intriguing bird-like shape comprised of CD fragments and scissor components.
Clovis Education Foundation Executive Director Jan Cox's aunt was the first president of the Abilene Education Foundation, and it was from her that Cox developed zeal in bringing the Young Masters program to Clovis. "I'm so proud of the Young Masters program, because it encourages and recognizes the artistic talents of our high school artists. It provides one of the few venues that emphasizes the importance of the visual arts at the high school level. Our community is a richer place to live because of programs like the Young Masters," says Cox. Cox originally presented the idea of starting the Young Masters program, first implemented by the Abilene Foundation, to the Clovis Education Foundation Board. The Young Masters committee was then developed and created standards, procedures, and awards for the program. Over the past four years, the program has flourished with contributors and participants. "We have expanded the program to include a fall workshop at CCC for young high school artists and a spring workshop for students who qualified for the juried art exhibit at the College," adds Cox.
On Wednesday, May 11, Young Masters judge and plein air painter, Jessie Dodington, instructed the exhibit's participants in the spring workshop. The workshop's theme was "Illustrating Insects: a creative collection in ink and watercolor." The emphasis of the workshop was centered on creative approaches to depict the subject, as opposed to accurate representation. This gives students a loose framework in which they can experiment with the new medium techniques and an opportunity to develop their individual styles. "I knew the variety and complexity of insects would ensure there would be something to inspire everyone. It also provided just enough of a unifying theme so that I can create a digital collage of their paintings as a final product that each student can have as a memory of their collaborative effort, in addition to the beautiful original paintings they took home," says Dodington.
The Eula Mae Edwards Museum is open to the public during regular campus hours, 8 AM – 5 PM, Monday thru Thursday, and 8 AM – 4:30 PM on Friday. "Young Masters" will be on display beginning May 3 until June 17.