CCC is Committed to Helping Students Start Their Career
June 26, 2017
As the Fall 2017 semester is swiftly approaching, now is the time to decide which classes are the best choices for your specific career path. Clovis Community College offers a plethora of classes recognized for both quality and affordability.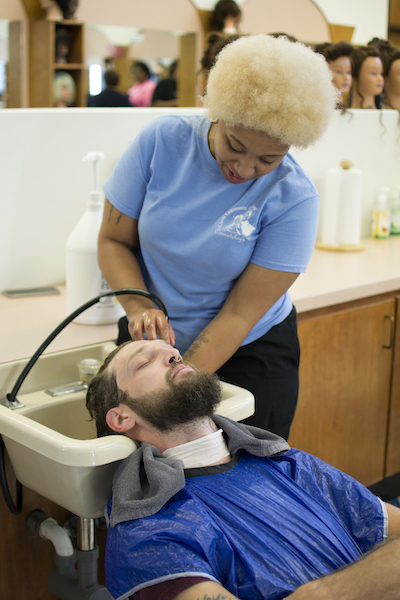 Recently recognized as #28 program in the nation by TheBestColleges.org, CCC's Cosmetology AAS program and certification for Esthetics and Nail Technicians is certified by the New Mexico State Board of Barbers and Cosmetologists and provides students with the best learning experience. Each track trains students with the most up-to-date equipment and gives hands-on experience in a modern student salon with professional products.
"CCC's Cosmetology program has consistently offered high quality instruction through Pivot Point instruction. I am very proud of our expert faculty as well as our state-of-the-art facility. This combination of top notch faculty and facilities allows our students to graduate fully prepared to pass their licensing exam and excel in the cosmetology field," says CCC President, Dr. Becky Rowley.
Not able to attend class on campus? Not a problem! CCC offers one of the most innovative online criminal justice associate degree programs in the country and was recognized by AffordableColleges.com as #28 in the nation. Focusing on the 21st century realities of crime and the criminal justice system, technological advancements and the post-9/11 world are emphasized throughout the program, as is the importance of homeland security and combating organized crime.
"The Criminal Justice (CRJU) program at CCC has been developed by highly qualified, experienced professionals in the field to meet the requirements for employment in law enforcement and corrections. I am very proud of the program that they have designed and of the expert faculty who teach CRJU classes for CCC. Our program faculty, with input from a dynamic advisory committee, have designed the program to focus on in demand topics from practical and theoretical perspectives. I am also very proud that our graduates are successfully employed in all facets of the CRJU field," explains Rowley.
The last day to register for fall classes is August 25. Register today at www.Clovis.edu/register or call 575.769.2811. You don't want to miss the opportunity to experience the unique classes that CCC offers to advance your career path.
For more information on the Criminal Justice program, please contact Monica Sanchez at 575.769.4948. For more information on the Cosmetology program, please contact Robin Kuykendall at 575.769.4916.