Las Cafeteras, the Perfect Blend
October 5, 2016
In recognition of National Hispanic Heritage Month, the CCC Cultural Arts Series presents the Los Angeles-born urban folk musical and dance group, Las Cafeteras, Saturday, October 15, 7 PM at Marshall Auditorium (100 Commerce Way).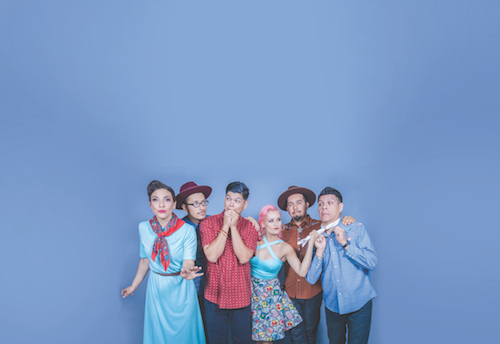 Las Cafeteras, who describes themselves as immigrant children remixing roots music, is the perfect fusion of urban-cool and traditional, appealing to various walks of life. Formed in 2008, Las Cafeteras has since then performed with Mexican icons Caifanes, Lila Downs, Colombian superstar Juanes, Los Angeles legends Ozomatli, folk/indie favorites Edward Sharpe and the Magnetic Zeros, Los Angeles Philharmonic Orchestra, and most recently with hip-hop artist, Talib Kweli.
Through their lyrics, the group characterizes modern day stories with community-focused political messages. "Music makes sense as a way to provoke a dialogue on present social and political issues," noted singer and multi-instrumentalist Denise Carlos. "You don't always have to talk politics, but if you are singing it in a very fun way, you hear the beat, you dance to it, and the words start meaning something to you," adds Carlos.
Las Cafeteras not only makes a statement through their musical poetry, but also with the instruments the group uses – including the jarana, requinto, a donkey jawbone, and a wooden platform called the Tarima. The unique, vibrant sounds of Son Jarocho, a traditional music from Veracruz, Mexico, infused with Afro-Caribbean marimbol and cajon, invents a distinct, exotic class of music unlike any other.
Presented at Marshall Auditorium as part of the Cultural Arts Series on Saturday, October 15. Tickets are $15.00 general admission and $10.00 for seniors/military/students. Tickets may be purchased at the CCC Cashiers' Window, at ClovisArts.org, or the evening of the performance. Brought to you by Clovis Community College and The Citizens Bank of Clovis. For more information and tickets please call 575.769.4031 or visit www.ClovisArts.org.