Warmth in the Wilderness
November 16, 2016
Clovis Community College presented the closing reception for Jessie Dodington's "The Quilted Landscape" on Thursday, November 4 in the Eula Mae Edwards Museum and Gallery.
Graduating with a BFA from Mount Allison University, New Brunswick, Canada in 2008, Dodington moved to Portales in 2010. She currently teaches as resource faculty in Fine Arts at Eastern New Mexico University and is an active member of the Plein Air Painters of New Mexico, New Mexico Art League, Portales Art Guild, and the New Mexico Watercolor Society.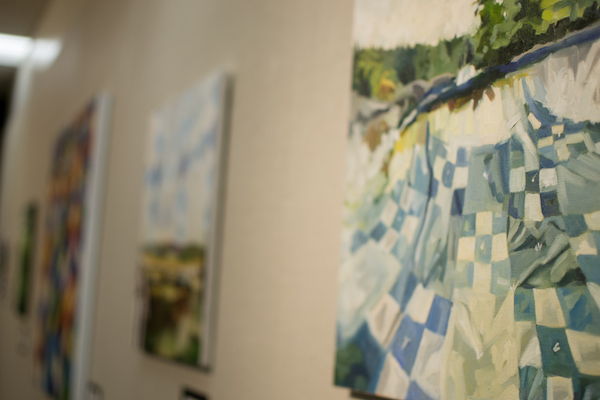 Texture, movement, and color bring Dodington's whimsical pieces to life with layers of blanketing fields and ocean. Though the pieces first appear as watercolor, Dodington uses acrylic on canvas throughout the series. Each illustration is of different dimensions than the previous one, and just as each location has its own history, it is depicted with a quilt of parallel antiquity.
"I started off wanting to do small daily studies, like still lifes in my house. I was immediately drawn to the fabric. I was sewing at the time, I was learning to quilt, and teaching myself to knit. Both my mother and my grandmother were quilters, so I grew up with those memories of being a kid when you're sick, and you get bundled up in a quilt. You end up just staring at these patterns forever. Being inspired by that imagery and being a landscape painter, it was really natural for those images to merge."
The series, which took over two years to complete, consists of scenes of Canadian influence, as well as scenes from Flat Rock Falls, Buffalo Thunder, and Santa Fe. Dodington also mentions that she found inspiration from her own backyard and views from her studio.
"I was excited about showing here, in Clovis, because while I was getting really interested in quilts, I started reading books about the first pioneers crossing to Colorado and even further west from the east. What they did was layer all of their dresses. They had to wear everything they wanted to bring with them, and then those dresses that the women would carry would be all they had to make blankets. Discovering that there's a history in quilting in this area that goes really far back is inspiring."
Thru Dodington's work then, the landscapes depict the hundreds of miles that the country's first settlers traveled by foot, imprinting the land with the quilted clothing that was worn throughout their expedition. Dodington brings these authentic chronicles to life with "The Quilted Landscape."
For more information on Jessie Dodington and "The Quilted Landscape," please visit www.dodington.us.