CCC Company Class and Dramatist Play Service Present "Noises Off"
November 27, 2017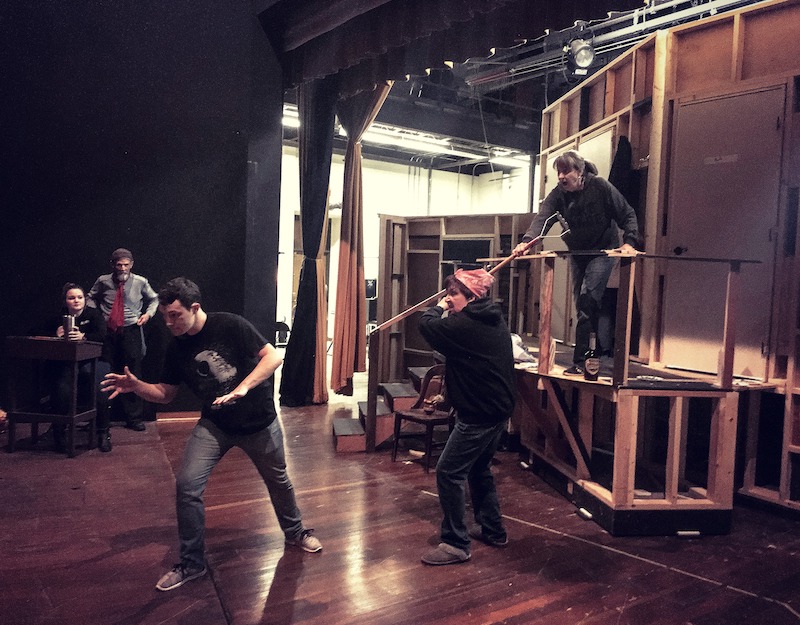 Clovis, New Mexico- Noises Off is a comedic theatrical production, written by Michael Frayn, where everyone gets caught in the act. This performance, essentially, is a show within a show as the actors journey together from city to city. With every performance their relationships begin to blossom, emotionally and romantically. That is until these relationships and friendships begin to spiral out of control triggering them to all explode.
Director, Christy Mendoza, addresses why she chose Noises Off to be CCC's fall theater production, "I wanted to pick something that our actors would enjoy working on and that audiences would like. I remembered seeing the film and thought what fun it would be for everyone. Once we got into it we all realized just how difficult this play is." One of the most taxing and rewarding aspects in this production is just how difficult it is. Not only does it have a set design that needs to be rearranged twice during the show, but it also contains challenging material that makes this play such a farce.
The real spotlight shines on director, Christy Mendoza, began teaching at CCC 20 years ago, and Noises Off will be her last production before her retirement. Mendoza has influenced the lives of many students, staff, and faculty at CCC. She has acted as a trailblazer for her actors and was the primary reason they returned to be a part of her last production. Jennifer Brandon, who plays the part of Vicki/Brooke in Noises Off, has been performing with Christy for 18 years. "I didn't plan to do any plays after Brickstreet Player's murder mystery back in October, but Christy told me in August that this would be her last play to direct at CCC, and I couldn't let the opportunity go by! I love Christy, and because of her, I have been able to teach, acquire the bravery to start directing plays myself, and launch a community theatre troupe."
Christy feels a closeness with her performers and the Noises Off production, "Sometimes we all feel like we're living Noises Off. This is the best group of actors I have worked with. They are family to me, I don't know what else to say, except, the proof is in the pudding. Wait until opening night"
Come watch this comedic circus unfold when Noises Off premieres December 7, 7:00 PM, at at CCC's Town Hall. Performances will run through December 9, 7:00 PM with a matinee performance at 2:00 PM on December 10. Tickets are $10.00 general admission and $7.00 for students/military/seniors. Tickets may be purchased at the CCC Cashiers' Window, at ClovisArts.org, or the evening of the performance. For more information and tickets, For please call 575-769-4031 or visit www.ClovisArts.org