7th Annual CCC Student Juried Art Show
On Wednesday, November 28, 2017, numerous pieces of innovative and masterful art work were presented at the 7th Annual CCC Student Juried Art Show. The awards took place at the Eula Mae Edwards Museum & Gallery where pieces from talented students, from Clovis Community College and Eastern New Mexico University, were displayed radiantly around the room.
The entries ranged from exquisite pottery to intricate works of graphic design. All of the pieces were presented to a guest judge to determine the award placement. During the reception, awards were presented to Best of Show, 1st, 2nd, and 3rd place, six honorable mentions, and a People's Choice which is voted by the reception attendees.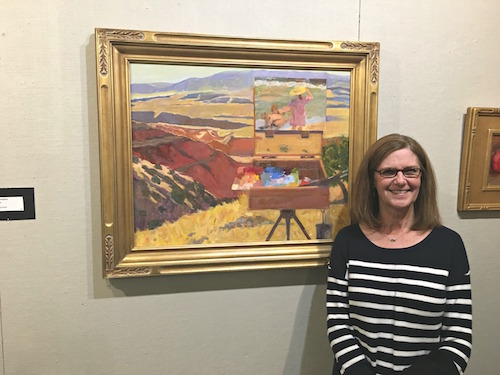 The following were winners for each category:
Best of Show: Tanya Bennet, "Here or There"- Oil (Pictured above), CCC
First Place: Abigail Dart, "St. Louis Arch"- Digital Photography (Pictured below), CCC
Second Place: Schree Mayfield, "Wookie"- Oil, CCC
Third Place: Michelle Perry, "Rachelle"- Sculpture, ENMU
People's Choice: Miles Waters, "Brothers of a Different Mother"- Pottery, CCC
Honorable Mentions:
Jill Balkun, "Female Sleeping"- Oil, ENMU (CCC alumna)
Alexis Ciboria, "Charcoal & Chalk"- Charcoal Drawing, CCC
Jaron Hill, "Bauhaus Mag 3"- Digital, ENMU
Vanessa Miranda, "Curse"-Oil, ENMU
Deborah Watters, "Angel Bridge, Rome"- Sketch/Etching, CCC
Halsey Wyatt, "Abbey Norman"- Photography, CCC
Scott Golem, the assistant professor of graphic design at Eastern New Mexico University, was appointed as the guest judge of the 7th Annual Juried Art Show. "It was not easy judging, to tell you the truth, because there was so many good pieces. All of the pieces were so unique; it wasn't, so much, anything that you've seen before. They weren't trying to mimic something, but actually creating something else."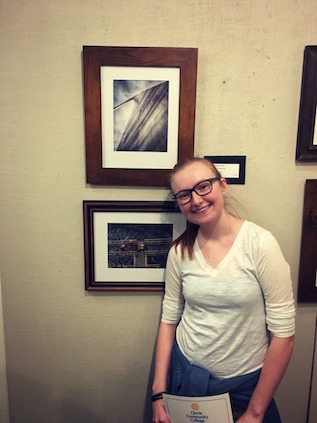 First place recipient, Abigail Dart, was elated as she heard her name being called for her piece, St. Louis Arch. "This was a massive surprise; I was not expecting it at all!". Abigail is a student at Clovis Community College majoring in Early Childhood Education in hopes of becoming a teacher. "I chose this piece because it was one of my favorites. I loved the colors the sun made hitting off the arch and I loved the texture the arch presented in the photograph."
The Eula Mae Edwards Museum & Gallery is open to the public during regular campus hours, Monday- Thursday, 8 AM- 5 PM, and Friday, 8 AM- 4:30 PM. The student exhibition will be on display until January 19th. CCC will be closed for the holiday break beginning on Monday, December 18th and will reopen Wednesday, January 3rd. For more information, please visit www.Clovis.edu.