---
In February 2021, Clovis Community College joined Achieving the Dream as part of their Building Resiliency in Rural Communities Initiative designed strengthen capacity to equitably prepare students for today's careers.
CCC's Achieving the Dream Student Success Vision Statement
Clovis Community College is committed to providing accessible, equitable, and inclusive educational opportunities for all students in our global community. In partnership with Achieving the Dream, CCC is dedicated to identifying and providing both academic and career specific programs designed to equip students with skills necessary for the digital workforce and to obtain high-demand jobs to strengthen our community's economic future.
Our Core and Data teams have been hard at work reviewing our student data, which will drive some of our student success focus over the next several years.
Clovis Community College will be gathering more data and need input from all full-time and part-time faculty and staff with help to complete the Institutional Capacity Assessment Tool, or the "ICAT" survey. The survey launches September 27th and is available through October 10th. This survey will allow us to change campus culture and improve student outcomes. We are asking you to speak up and be heard to help inform our future directions with our Achieving the Dream efforts.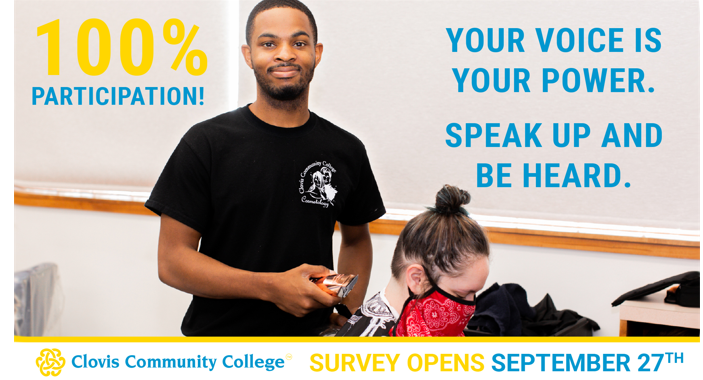 ---
INSTITUTIONAL CAPACITY ASSESSMENT TOOL (ICAT)

A comprehensive and systematic approach to move forward.
Supporting the student experience from connection through completion requires a holistic, student-centered design. In order to help you operationalize integrated, impactful, and sustainable student supports, our dynamic team works with your college to:
Understand current challenges and opportunities for improving student supports

Envision the ideal student experience

Develop a prioritized action plan to address core issues

Improve operational workflows and internal communication

Deepen your college's understanding of equity and equity-based, student-centered design

Conduct student-focused research strategies

Create the structure and culture to support continuous improvement centered on the students you serve
ICAT is your catalyst for transformative change.

Institutional Capacity Assessment Tool (ICAT) in Action

Changing campus culture and improving student outcomes is a challenging task that requires self-reflection, critical thinking and feedback, and coordinated action across the institution. ICAT is a tool that supports this work. Colleges that have completed the ICAT are leveraging the results to guide strategic planning, prepare for accreditation, launch pathways, implement high impact practices, facilitate discussions across the college, and drive action.
---
Contact
Robin Kuykendall, Ed.D.
Associate Vice President for Enrollment Management and Student Affairs
Phone: 575-769-4994
Email: robin.kuykendall@clovis.edu